Model: Moon-Rapid A520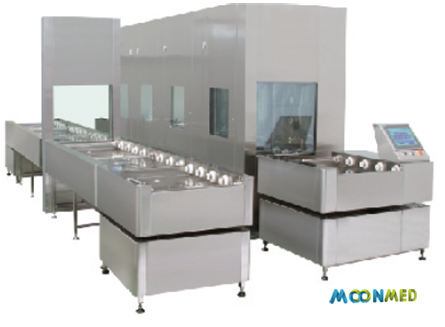 Moonmed rapid cycle multi-chamber washer-disinfector
This washer-disinfector is an internationally advanced product which is researched for the middle and large size hospitals. Its advantages is a high reliable quality washer for a high work load.It can be widely used for hospital reusable articles such as operating instruments, minimally invasive instruments, corrugated and anesthesia hoses, glassware, dental hand pieces, baby bottles and general medical instruments especially for hospital CSSD.
It has a modular design with a compact structure and provides multiple combinations to meet customer requirements.
The width of the washer-disinfector is only 1200mm which provides for a convenient installation.
Model: Moon-Rapid A-420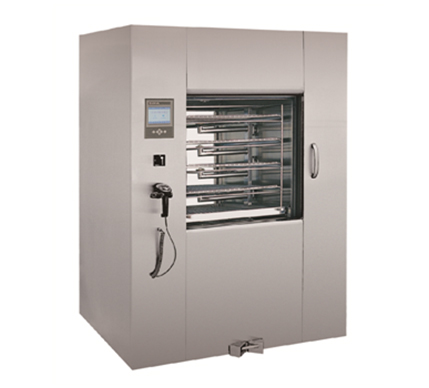 Multi-combination of washers Disinfectors
Double-chamber
Chamber 1: prewashing, washing, rinse and disinfection
Chamber 2: drying
Triple-chamber
Chamber1: prewashing and washing
Chamber2: rinse and disinfection
Chamber3: drying
Four-chamber
Chamber1: prewashing and washing
Chamber2: ultrasonic washing
Chamber3: prewashing and disinfection
Chamber4: drying
Diversified carrying system
Unique hot-wind drying system to guarantee a better drying result
Flexible connection between washing rack and chamber (patented technology) to guarantee washing result
Easy-to-use 10.6 inches touch-screen control
More efficient
Advanced design concept which makes the running speed 30% faster than traditional products.
Better washing results
Well-designed spray arm with flexible rotary system and perfect connection between washing rack and chamber provide a better washing result than traditional competitor products.
Easy-to-use
To operate this washer-disinfector, simply touch the 10.6 inches touch-screen control and select a function.
Energy saving
New-designed pipeline system saves around 25% of water usage.
Reliable and sanitary inner-chamber delivery system
The chamber is equipped with stainless steel wheels which are contamination free. All transfer components are installed out of chamber to protect the instrument from secondary contamination.
Better compatibility
The washing racks can also work with Moon-Rapid-A-520 or Moon-Super 6000 washer-disinfector series.
Nice window design and good maintainability
The chamber has a door with a large-sized window. For maintenance purposes all the pipelines are fixed on one side of the washer-disinfector with open type doors for easy access.
High-efficient hot-wind drying system
Two-stage drying system with sieve-style air inlet dramatically improves the drying result and efficiency. It also solves the drying problems caused by temperature changes.
Diversified carrying system
For your convenience, we offer manual carry-trolley and auto washing racks to increase efficiency and reduce labor intensity.
Technical parameters
Overall dimension (L×W×H)
Double-chamber: 1940×1165×2250Triple-chamber: 2886×1165×2250

Four-chamber: 3980×1165×2250

Single chamber net weight
500Kg
Structure type
Vertical
Heating type
Water: steam-heatingAir: steam-heating and electric heating
Water consumption
30L/step/chamber
Water outlet
2" internal thread
Air outlet
φ63.5mm/drying chamberφ125mm
Water temperature
93℃
| | |
| --- | --- |
| Working conditions | |
| Water supply (softened/pure water) connector | 1/2'' |
| Water supply pressure | 0.2~0.5Mpa |
| Water flow | 60L/min |
| Steam pressure | 0.3~0.5Mpa |
Water quality
Softened water
4-7°d
Pure water
Conductivity≤15μs (25℃)
1°d=10mg/CaO=17.8mg/L CaCO3 Washing/rinse water: softened or pure water.

Final rinse and disinfection water must be pure water.
| | |
| --- | --- |
| Power supply | |
| Double-chamber | 380VAC,50Hz,17KW |
| Triple-chamber | 380VAC,50Hz,20KW |
| Four-chamber | 380VAC,50Hz,25KW |
| | |
| --- | --- |
| Working condition | |
| Temperature | 5~40℃ |
| Relative humidity | No more than 80% in 20℃ |
Multiple washing accessories to meet your requirements
Four-layer/five-layer washing racks
This is mainly used for washing of instruments in baskets or trays.
Note: We do not recommend that use this rack for washing of medical dishes or dressing bowls.
Medical dishes/bowls washing rack
This is used for washing of dressing bowls and kidney dishes.
Glassware washing racks
This is used for washing of glassware.
Note: Please send us the size of glassware items that need to be washed when ordering the rack.
Anesthesia/corrugated tube washing rack
This is used for washing of anesthesia/corrugated tube or face mask.
We also offer customized washing racks according to your requirements.
Other accessories
To make our product more automatic and beneficial, we also offer a rack transporter which could be automatically connected with the washer-disinfector, rack storage table, rack transfer track and other accessories.


Download product datasheet