MEDI SEALING MACHINES
MODEL: STE-SM1010, STE-SM1020, STE-SM1030
­
MOONMED ROTARY SEALERS
Moonmed Rotary Sealers with built-in printer are specially designed to meet the demand of high volume operations in hospitals and medical device industries.
Common sterilization packaging processes require traceability of sealed pouches to ensure patient/medical device safety and control at all times. The built-in printer in the Rotary Sealer ensures the end-user that all essentials data needed for traceability can be printed on the back side of the pouch.
Each model housing is made of AISI 304 stainless steel, which reduces maintenance to a minimum and ensures hygienic use in CSSD's.  The temperature settings are controlled by microprocessors and can be adjusted between 50˚C to 200˚C with a ±1% tolerance.
A hermetically sealing is ensured for a wide variety of materials like sealable pouches and reels according to EN 868-5 and ISO 11607-1, Tyvek® 1059B, 1073B and 2FS.
Essential data to be printed on the sterilization packaging, can be easily entered and monitored by the user through the large LCD panel.
Seal date
expiry date
operator name/code
lot number details
This will be printed automatically during the optical sensor controlled feeding. All machines carrying the Moonmed brand are validated, calibrated and in compliance with international standards.
STE-SM1030
With growing global population, combined with developing healthcare services and medicine technologies, the number of people benefiting from hospitals and healthcare services is increasing rapidly. Due to increased demand, the quality of service and productivity gain more importance for sector managers,healthcare workers and suppliers. Moonmed SME-SM1030 series medical sealing device for hospital and industry applications is a combined self-cutting and sealing system that is contributing to your productivity, flexibility and independence providing an unparalleled blend of benefits:
Productivity
Safe & Secure
Cost effective
Time saving
So, how does it work? The built-in rotary sealing system integrates with feeding the automatic system continuously and seals the reel right below the cutting line. The medical sealing system can also be used separately for cutting or sealing operations.In principle, the Moonmed SM1030 series combines a roll dispenser and a rotary sealing device. Unlike usual roll dispenser & cutting devices, this operation is fully automatic. After the length and quantity adjustments are determined through the panel, it produces the ready to fill pouches from any sterilization reel in the required length and quantity.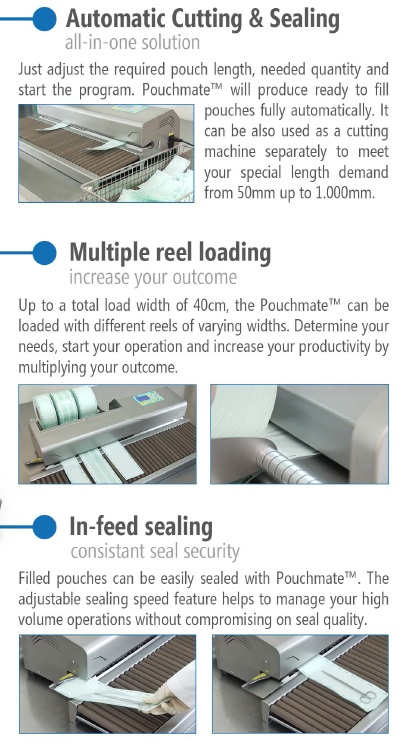 Download product datasheet