MODEL: MOON-YGZ-1600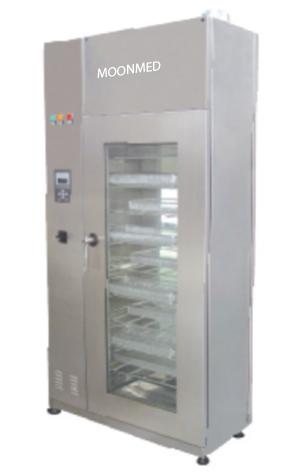 Main features
MOON-YGZ-1600 series drying cabinet is a large capacity medical drying unit designed according to the market requirements to fulfill the needs for the drying of surgical instruments, glassware and respiratory therapeutic items, lumen etc. The unit is easy to operate, the range for the drying temperature and time is 40℃~90℃ and 1~99 minutes (adjustable) respectively. It is user friendly and can be set up easily to your needs. Two models are available with options for single-door or double-door types.
Due to the new air intake system these units can dry catheters, lumen, all types of tubes and hoses, masks and all types of instruments. There are many drying programs that are used for all different item types.
Hospital CSSD, operating rooms and other departments in which items need to be dried.
It can handle large amounts of items for drying including surgical instruments, anesthesia or respiratory items.
The microprocessor control comes with LCD screen with 10 programs. Parameters are easily adjustable to your needs.
The chamber is of top-quality 304 stainless steel with a thermal insulation jacket to avoid heat loss. The door has a modern design with a glass window for monitoring the inside during a working cycle.
Technical parameters
Standard configuration for each drying cabinet
| | | |
| --- | --- | --- |
| Items | Quantity | Note |
| Host | 1 | 304 stainless steel with double-glazing door |
| Rack | 9 | stainless steel |
| DIN standard instrument tray | 9 | stainless steel |
| Pipe support | 2 | stainless steel |
| Water collector | 1 | stainless steel |
Accommodates: 9 DIN standard instrument trays
Catheter and humidification bottle support

Download product datasheet