MODEL: MOON-XGI.H Series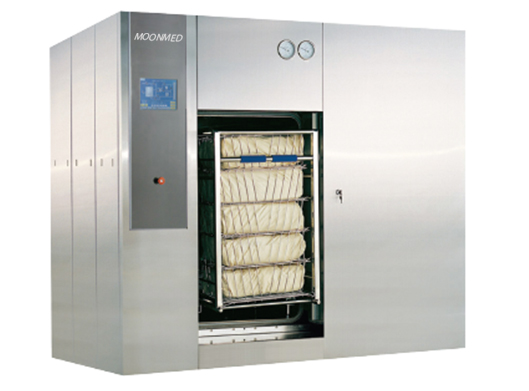 Sliding Door Pulse Vacuum Sterilizer is fully automatic And is designed for the sterilization of biology products, utensils, Aseptic clothes, medical instruments and dressings in fields of biological projects, healthcare, animal health laboratory and the pharmaceutical industry, etc.
The chamber door is an automatic vertical sliding door which seals with compressed air It come with a touch screen which makes the operation easier.
The parameters such as time, temperature, pressure, etc. in the cycle process can be displayed and adjusted on the screen and these parameters can also can be printed by the built-in printer.
The programs are fully automatic after starting and the manual operation is also available.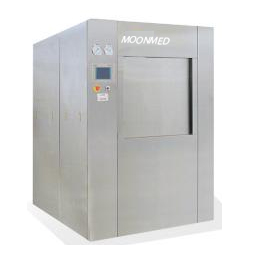 The PLC is from SIEMENS which is the process controller and is of the highest quality coupled with the extreme reliability and flexibility.
The vacuum step is completed by pulse vacuum feeding steam several times into the chamber to ensure air removal is completed 99%, to avoid trapped air and to ensure the best result for sterilization.
Chamber and jacket is 6mm made from stainless steel.
The door gasket is made of silicon rubber and it is one piece molding without a joint.
Shelves or loading trolley and transfer trolley is standard accessories.
Technical parameters
| | |
| --- | --- |
| Rated working pressure: | 0.21Mpa |
| Rated working temperature | 132°C |
| Range of pulse times: Range of time for sterilization: Range of time for drying. Safety valve(chamber & jacket) | O — 99 timesO — 9999 secondsO — 9999 secondsopen pressure: 0.23Mpaclose pressure 0.21Mpa |
| Pulse vacuum range:  Air exhausted   | positive pressure 0.065Mpa—0.09Mpanegative pressure —0.05Mpa— -0.09Mpa>99%(≥ 3 times of pulse vacuum) |
|   | |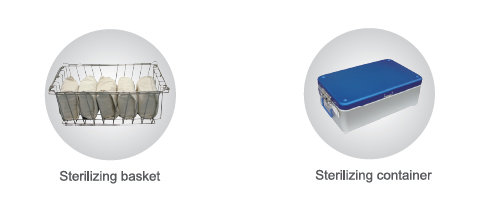 Download product datasheet